Hardcover Book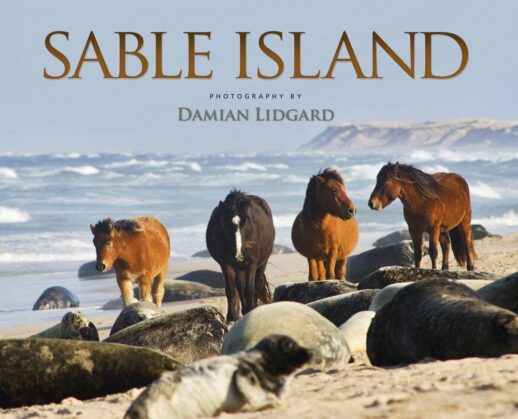 $27.95
Hardcover Book, 102 pages, Nimbus publishing, 2011.
Sable Island, the "Wandering Sandbar," has been the subject of enduring fascination, long known for its many shipwrecks and appreciated for its unique flora and fauna, particularly the beautiful and resilient wild horses that make the island their home. Sable Island also has the world's single largest breeding colony of grey seals and is home to the Ipswich sparrow, which breeds only on the island. The ever-changing landscape of this island of sand, molded by the intense wind and rain of the Atlantic Ocean, produces natural formations stunning enough to rival some of the world's most accomplished sculptors.
Sable Island includes over 100 stunning images by photographer Damian Lidgard, images that showcase this magnificent island in its rarely seen splendour. Damian is one of the few regular visitors to the island, and his photography is an expression of the island's unique beauty.
Praise for SABLE ISLAND:
Photography by Damian Lidgard
"One of the few regular visitors to the magnificent island off Nova Scotia known as "the graveyard of the Atlantic," photographer Lidgard captures all its iconic beauty, from the sculptural sand formations to the sturdy, mysterious wild horses and tiny Ipswich sparrows. This book makes you want to grab your parka and go there – high praise indeed for the chronicler of such a bleak and strangely beautiful treasure."
-Globe and Mail, The 2011 gift books guide: Travel & Geography
"Photographer and zoologist Lidgard has been visiting Sable Island as a scientist annually since 1997. While collecting research and data he also takes photographs, more than 100 of which appear in this book highlighting the beauty of the island that sits 300 km from Halifax. While the famed Sable Island horses are on the cover of the book and have a section inside, the book also provides closeup glimpses of the splendour and intriguing aspects of the island, from old houses and shipwrecks disappearing over time, to the shifting sands and dunes, to the raw beauty of the land, sky and ocean on the island."
-The Chronicle Herald , Dec 2011.
"Damian Lidgard's photography…remains true to the Latin roots of the word. His camera has become his pen, allowing him to "write with light" and delight us with aspects of Sable Island we would not see if allowed to step ashore for one brief visit….While I hesitate to resort to a cliché, Lidgard's photographs are indeed worth a thousand words as each one invites you to make yet another discovery. In the process of writing this review, I've examined them cover-to-cover five times, and every time I've seen something new".
–Atlantic Books Today, Spring 2012.