The next stage in Miksang, after the unconditional perception, is the most tricky. As we stand on the spot, engaging with the perception in front of us, halting the habitual dialogue in our minds that leads to labelling, judging, etc, we need to define the boundary of the perception.
The image in front of us is made up of elements (leaf, tarmac), some of which are part of the perception and some are not. If we include elements that are not part of the perception then we fail to capture what we see on film and we fail to express to others the perceptions we see. So we need to define the boundary of the perception.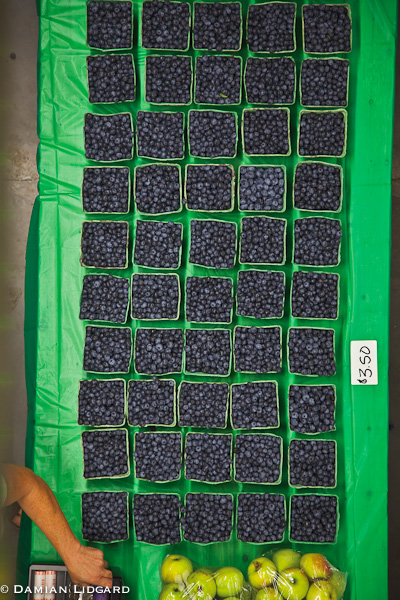 The image above was taken at the Seaport Halifax Farmers' Market looking down from the second floor. The perception was of green boxes of small round blue berries, neatly arranged in rows, on a green background with bags of light green apples and the arm of the vendor. They were the connections of all of the elements that created this strong perception. Remember that at the time this perception occurred, my mind was not labelling all of these elements. My mind was simply engaged with the whole, raw perception. There are no elements included here that were not part of the original perception; the vendor standing near the table was excluded (other than the arm), as was his money box and flask; the customer near the table was excluded, as was the market floor.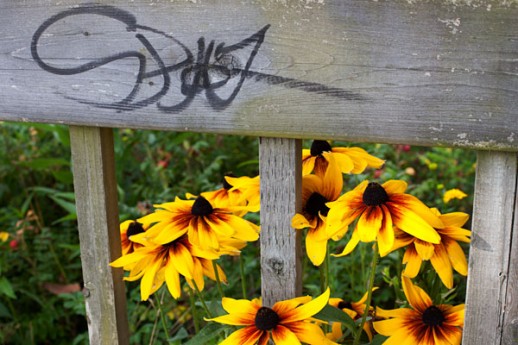 The same process occurred here; only the elements that defined the perception are included: the fence, flowers and graffiti.
The process of visual discernment or analysis takes some practice because we are engaging with the mind more and asking ourselves where the boundary lies. And so we are partly disengaging the mind, to prevent labelling, etc, and partly engaging the mind to exclude unwanted elements.